Memory Care
At Natchez Trace, the Lodge Country House is a unique and secure neighborhood designed just for patients with memory loss associated with Alzheimer's Disease and other dementias. We keep a small, tightly-knit team of memory care staff and nurses to ensure residents receive care from familiar and friendly faces each and every day.
In order to thrive and live their best lives, individuals with memory loss require a level of stability that only a dependable and unwavering schedule can offer. From Monday through Sunday/seven days a week, our committed staff follows a specialized consistency program exactly as it was developed by the memory care experts. Country House residents also enjoy weekly music therapy, a time where they are able to connect with themselves and their peers through instrument play, therapeutic singing, improvised songwriting, guided movement to music, and much more.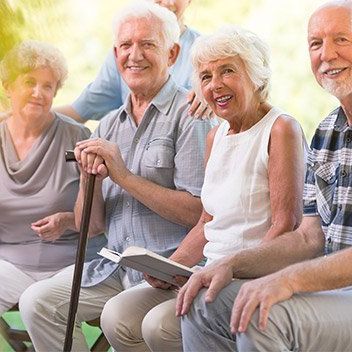 Personalized Memory Care Plans
Every Country House resident begins his or her unique journey with family at their side. Our knowledgeable and delightful Marketing Director, Kelly Porter, gets to know the needs of future residents and provides families with valuable information and resources as they decide if The Lodge is where they would like to be. Once a decision is made, our Director of Nursing performs an assessment to determine each new patient's care plan and the level of support it includes. A follow-up is conducted 30 days after move in—and unless a change in health calls for care adjustments sooner, regular assessments are continually conducted every 3 months after that.
Stimulating Sensory Activities
By stimulating the amygdala through each of the five senses, the brain essentially exercises its own neural pathways and overall capacity for memory retrieval. We offer Country House residents a wide variety of effective Sensory Programs such as individual and group activities, (group) music therapy, baking bread and making cookies, aromatherapy, pet therapy, and hand massages. And to create the kind of positive emotional experiences patients need for healthy responses to novel stimuli in the future, we regularly take fun, stress-free field trips into the outside community.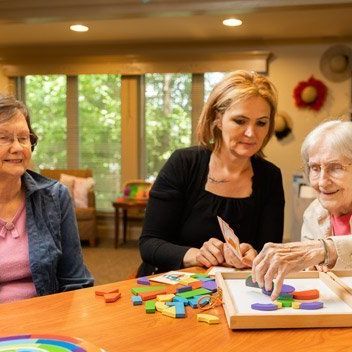 Maintaining life skills
One of the most frustrating realities for seniors with memory loss is struggling with the very same everyday tasks they had performed their entire lives without a second thought. To reduce agitation and raise self-confidence, our compassionate memory care experts have developed a special series of Life Skills Programs that include various housekeeping chores such as cooking, laundry, sewing, and setting the table. And for the nature lover, we offer gardening responsibilities such as watering plants, arranging flowers, snapping peas, and shucking corn.
The Bridge Program
Committed to upholding each individual's dignity and to always be an advocate for their rights, we guarantee your family member's safety 24 hours a day.
This unit offers independence during the day and security at night. The Bridge is for memory care residents that are high functioning, but may need extra security at night due to confusion. Doors on the unit open at 7:00 AM and close at 7:00 PM and are staffed for the evening. During the day these residents have the option to participate in all the normal Assisted Living programming and dining.