Amenities
Thoughtfully crafted by eldercare and assisted living experts, seniors at the Lodge enjoy an extensive collection of amenities giving them the power of choice over their day-to-day lives.
To maximize convenience for all residents, we offer assistance with activities of daily living on both a scheduled and on-call basis. Other handy amenities include concierge services, housekeeping, personal laundry care, and an on-site, complete service salon and barbershop.
As many of our amenities are shared by the entire community—friends and staff included, our Lodge family enjoys manicured green grounds, lush gardens, and charming outdoor courtyards, all cared for by our talented and professional landscapers. Some amenities, such as fitting resident suites and personal studios with an emergency call and response systems, are intended strictly for practical and safety purposes.
Wellness-Oriented
With an entire wellness-oriented staff, we promote healthy living by providing seniors with three tasty and nutritious meals a day endorsed by HCC dieticians and prepared by our very in-house chef. We also encourage a physically-active lifestyle by offering daily small group exercises and accommodating trips to the local YMCA, which is just around the corner.
Person-Centered
Dedicated to creating a person-centered environment, our assisted living and memory care programs address senior's unique areas of concerns while facilitating the kind of independent lifestyle they need in order to thrive. Together with their families, residents get to choose the therapeutic, recreational, and living assistance amenities that they feel will best complement their personalized care plan.
Community-Focused
We understand how physical health and mental wellbeing are impacted by the quality of the relationships in our everyday lives. To promote holistic wellness, our community-focused amenities encourage socialization and meaningful relationships. We regularly sponsor community events and dinners that are open to the entire extended Lodge family.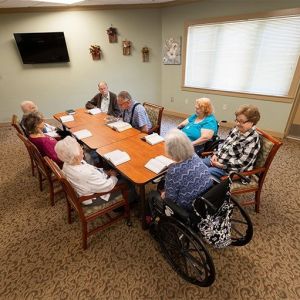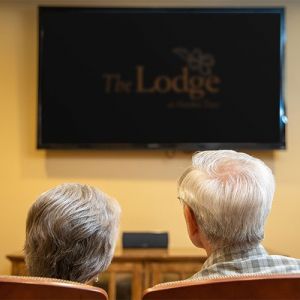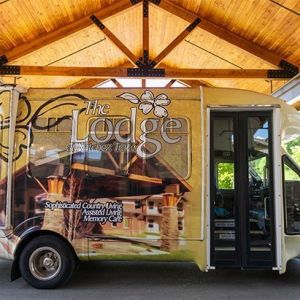 Additional Amenities
Multiple Dining Halls – Elegant dining hall and private dining room for both intimate dinners and larger celebrational gatherings
Private One-Bedroom Patios – Community sun porch, courtyard, and other outdoor options for woodsy scenery and sunny relaxation
Library – Variety of educational resources, recreational reading material, and religious and spiritual literature
Activities Room – Nurture socialization in a community space through games, art skills, and creative crafts and hobbies
Beauty Salon/Barber Shop – Professional salon services for female residents and traditional barbershop services for male residents
Bistro – Snacks, beverages, and other treats available all hours, day and night
Breakfast, Lunch, & Dinner – Numerous menu options for all three daily meals, each created by our talented in-house Chef
Family Meetings – Regularly scheduled meetings with Lodge residents, family members, and staff for updates in health and care
Media Room – Shared by the community complete with cable television, Netflix, and a classic movie collection