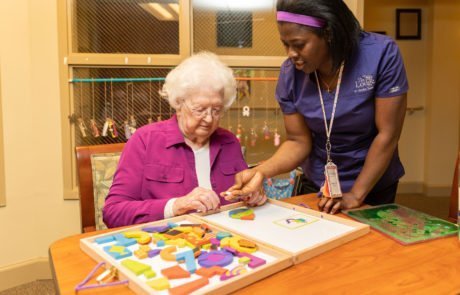 Every Country House resident begins his or her unique journey with family at their side. Our knowledgeable and delightful Marketing Director, Kelly Porter, gets to know the needs of future residents and provides families with valuable information and resources as they decide if The Lodge is where they would like to be. Once a decision is made, our Director of Nursing performs an assessment to determine each new patient's care plan and the level of support it includes. A follow-up is conducted 30 days after move in—and unless a change in health calls for care adjustments sooner, regular assessments are continually conducted every 3 months after that.
By stimulating the amygdala through each of the five senses, the brain essentially exercises its own neural pathways and overall capacity for memory retrieval. We offer Country House residents a wide variety of effective Sensory Programs such as individual and group activities, (group) music therapy, baking bread and making cookies, aromatherapy, pet therapy, and hand massages. And to create the kind of positive emotional experiences patients need for healthy responses to novel stimuli in the future, we regularly take fun, stress-free field trips into the outside community.
One of the most frustrating realities for seniors with memory loss is struggling with the very same everyday tasks they had performed their entire lives without a second thought. To reduce agitation and raise self-confidence, our compassionate memory care experts have developed a special series of Life Skills Programs that include various housekeeping chores such as cooking, laundry, sewing, and setting the table. And for the nature lover, we offer gardening responsibilities such as watering plants, arranging flowers, snapping peas, and shucking corn.